Armando stopped wiping the tabletop with his right hand.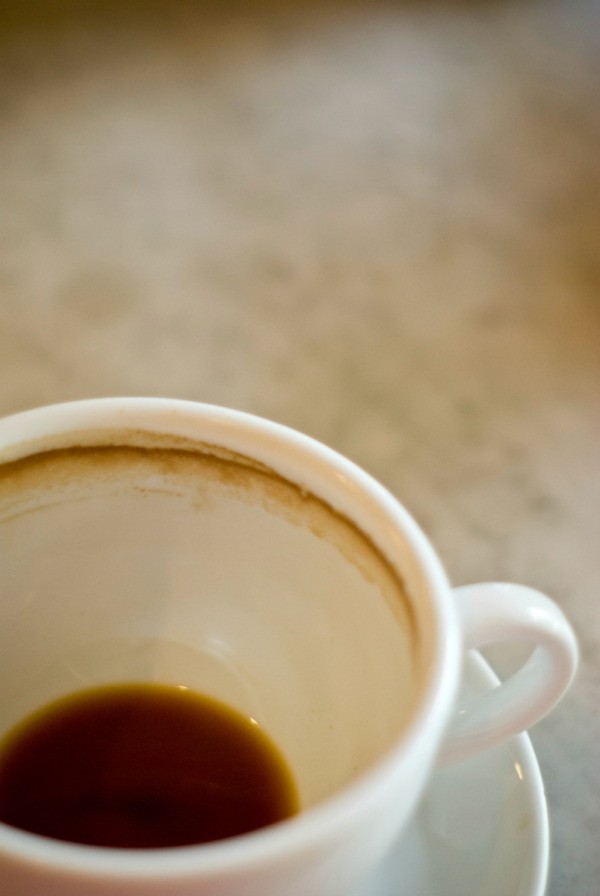 He'd just gathered and stacked dishes, cups and flatware in his left hand, going through motions he'd practiced from long experience in cleaning up after others had eaten.  Gather and lift with left hand, wipe the table with the right, set the dishes in the bussing tray, straighten the condiments.  Done it thousands of times.  It was his job, and he was good at it.  He could turn his mind off, still the gnawing, accusing voices, losing himself in his work.
What made him pause was the neatly folded note he'd uncovered as he lifted up the dinner plate.  On the top, the guy who'd sat here had neatly printed a message:
SOMEBODY NEEDS WHAT YOU HAVE.
Brow wrinkled, he took the bussing tray full of dishes in, rinsed them and got the dishwasher load going.  Then he asked Peggy Sue if she'd read it to him.  As she adjusted her glasses and craned her neck to read, she smiled.
"That was Granger."  Here a wistful note crept into her voice.  "I recognize his handwriting."  She went on to read what he'd written to Armando inside the note.
It's obvious you take pride in doing
a job few seek, let alone do with the
grace and attention to detail by which
you make me and others want to return.
The respect you show to all, your appearance,
and your attitude have been noticed.  Perform
your duties from here on in the same manner.
Remember these days of humble service.
They are but a training ground for God's next
mission for you.
Thank you for making my day.
As the busy server hustled off to deliver another order, Armando stood there baffled.  He doesn't know me; other than "Good morning," we've rarely spoken.  What's he–  Where–  Peggy Sue stopped to make fresh coffee, and Armando made eye contact with her.
"Who is he?  Why me?"
" 'Mando, I don't know much about him.  He doesn't come in often.  But every time he does, there's just something good and gentle here— he leaves smiles in his wake.  It's like the air's a little cleaner.  He's always saying how blessed and grateful he is, he always has a kind word, some sort of encouragement.  It feels better after he's been here."  As she turned to go, her next words stunned him, for Peggy Sue was no shrinking starry-eyed gum chewer.  "Personally, I think he's an angel in disguise."
The industrious busboy caught himself during the rest of his shift pausing every so often, slipping a hand inside the hip pocket of his Goodwill jeans and rubbing the texture of the paper the note was written on.  How could he have known I was ready to give up, to quit?
" 'Mando?  Drop by my office when you get a minute."  It was Joe, one of the owners.  Armando's heart bobbed to his throat, riding the flood of his apprehension and insecurity.  Hesitantly, dreading what was surely coming next, he tapped on the door.
Wait.  Joe was smiling, standing up.  " 'Mando, I've been watching how conscientious you are.  I've asked around, and whenever you're on duty, nobody ever has to worry about your work being done–and done well.  You never complain, you're always here on time, and if there's ever a scheduling issue, you always work with us.  How'd you like to try your hand at cooking?"
Cook?  Generous raise?  Speechless, he just nodded.  "Fantastic!  Be here to open in the morning, and I'll have Slim show you the ropes."
We've all trudged in Armando's shoes.  Why do I keep this up?  Why bother?  I do my best, to give my best, only to watch others who haven't get rewarded as if they had.  In some cases, they've taken credit for work I know was mine.  I don't do it for the notice, but even a little would be nice.  It gets real tiresome to be clockwork-dependable, only to watch others more popular or younger or better-looking or—or whatever always get the nod.  I mean, how long do I bat cleanup?  How long do I go around quietly cleaning up others' messes?  Nobody cares, nobody notices.  No one knows the hours I put into working to be my best.
It could go on a long time, couldn't it?  And I'm not talking about an immature attitude.  We're dealing here with stuff that can go on for years, right?  You putting in 'sweat-equity', only to have some flashy bigmouth blow in the door and take everyone's attention?
Frustration.  Tension headaches, maybe even migraines.  Injustice.  Pampered, coddled coworkers.  Smoldering anger. Stoked rage.
Here's the deal:  somebody needs what you have.
Yeah, you.  God keeps perfect records.  He's been watching all the time.  And when He knows the time's right, He'll open new doors and shut others.  When God does the opening and closing, it's a permanent thing.
You may be in Armando's worn-out shoes; I don't know.
Just don't quit.  Keep doing the superior work, offering the sparkling service you're known for.
SOMEBODY NEEDS WHAT YOU HAVE.
© D. Dean Boone, February 2018