IF YOU DON'T ASK, THE ANSWER'S ALWAYS NO; IF YOU DON'T GO AFTER WHAT YOU WANT, YOU'LL NEVER HAVE IT; AND IF YOU DON'T STEP FORWARD, YOU'RE ALWAYS GOING TO BE IN THE SAME PLACE.
     "I've read that before."
Me, too.  Plenty of times.  The first 37 it didn't stick.  It's the kind of unpleasant, elbow-in-the-rib stuff that grows on you.
And should.
You're the same way.  You know for every true doer, there are 99 talkers.  They're like remoras on a Great White.  Saying all the right phrases and buzzwords, they're devoid of passion.  There's no fire, yet they're willing to hang on forever and ever, amen.  They make the testimony of the doers a thousand times tougher to penetrate our cynicism and derision.  Seen and heard it all before.
---

Show me your string of fish and I'll change my bait.

---
Go ahead, ace.  Motivate me.  I want you to.  I've seen "Fake-it-'til-you-make-it" splatter until I'm ready to hork on somebody's Crocs.  We both know you can't afford to look and act like you're trying to.  You talk a good line.  I know honesty and class when I see it.  You ain't it.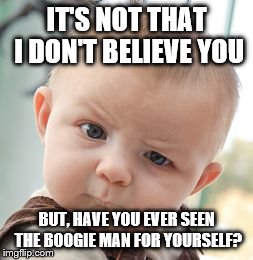 "Show me your string of fish and I'll change my bait."  Right?
Okay.  I understand your instinctive mistrust of any fast- and smooth-talking type dressed in a jacket looking like the seat cover of an aging Peugeot–or the ninnies who'll dress like anything currently popular, act the fool, and yell at you from your device.   I'm with you.  I've sat and observed all the remoras I can stomach, both in and out of the Church.  As an Intuitive, I can almost always pick 'em out.  Even the stealth ones.
     "So what'd you do about it?"
I chose to rise from that disillusionment and focus on the few who are authentic doers.  I respond to those who choose to believe in me as I am now, and in who God's intending me to be becoming.  Those are the doers.  There aren't a lot of them, but they're pure gold.
Here's the thing.
http://peng0503.blogspot.com/
If you're not dreaming BIG, then why bother?  Sit back, shrug and stay where you've been.  Hope for something or other to come your way while you play it safe and exist.  Stick within your comfort zone.  Don't dare to dare.
Believe me; I know what it's like to sit, stunned and huddled, wondering, "What's happening?  What's next?  When's this going to stop?"  I get it.  I've been there, and I'm not poking at you if you are.
Just don't expect me to stay there with you.  I'm with Paul, man:  "Forgetting what's behind, I press on . . ."  Me, too!  Yeah, life's knocked me down a few times.  Sure, it hurts for a little while.  But sitting and whimpering gets blown out of the saddle by getting back up, looking around for another door slightly open, and heading toward it.
As long as there's life in me, I'll keep working at what I believe God's laid before me to be and do.  I'll walk through any door He leaves open, trusting Him to shut it if that's not the right path for me.  "But you're not—  You can't—  You don't have—"  All true. 
BUT LOOK AT WHAT I DO HAVE.  LOOK AT WHAT'S LEFT! 
😎
  I'm on the hunt for what I *can* do–and I'm not fretting about how it's going to happen, where I'll get the stamina and energy, or how long I can stay at it.  That's God's part of this thing.  Mine is to shut up, get up, and show up for duty.  "The kingdom of God is not a matter of talk, but of power."  (Paul,

1 Corinthians 4:20

) 
Remember what James said?  "Dear friends, do you think you'll get anywhere in this if you learn all the right words but never do anything?  Does merely talking about faith indicate that a person really has it? . . . . Isn't it obvious that God-talk without God-acts is outrageous nonsense?" (

2:14-17

)
I'm daring to dare.  I'm trusting God to care for the details.
Try it.  What is there to lose?
© D. Dean Boone, October 2017