Good morning, 2nd Cup friend.  I'm Granger.  Dan's my best and closest friend, my, ah, alter-ego; and there's a good reason for that.
I'm his principal character about and through whom he often writes.  No one knows me like him.  No one knows him like me.  It's because of this uncanny symbiosis between us that you know me so well:  what I wear, the things I like to eat, places I go and how I get there, even my thought processes–how I reflect on and process things.
It's this shared love and respect between writer and character that makes me step out of the screen, set down my black-and-green oversized "Coffee made me do it" mug full of fresh mocha caramel java, hold out my big, work-hardened, scarred hand, and shake yours.  It's what lets my green eyes look into yours, seeing the complex dance of emotions there, and letting you sense my own.
It – he – is the force which makes me come alive, and invite you into my world.  It doesn't happen by chance.  Dan's been at this awhile.  He's an avid reader, like most excellent writers; he's been studying different styles all that time, choosing the ones he's felt best fit what is flowing through his mind and spirit.
When you read a short paragraph and catch yourself sitting, staring into middle space and thinking, "I feel like I'm right there"?  He's put hours into it.  Sometimes even I get bored and play WordSearch or something until he thinks he's getting it right.  Dan puts a lot into making you feel what I'm feeling, making you see what I see.  He wants you to be welcome here, so that whenever you see my name, connected with his byline, you kind of settle in with your coffee, thinking, "Oh, I like this guy.  I know where he lives and I enjoy visiting there."
Others share our imaginary locale.  Arlough, the laser-minded MENSA dropout whose engineer's mind is often funny bordering on crazed, yet rarely in neutral.  Occasionally you'll encounter Raven Wing, American Indian MSW whose keen analytical, intuition ghosts through Granger's world, leaving in her wake dry, sarcastic wisdom and an intense loathing of hypocrisy.  Often you'll find Deputy Sheriff 'Sparks' Dickerson helping himself to Granger's coffee.  The young decorated warfighter is a recent Christ-follower whose clear sense of justice causes him to struggle with how to confront Evil while growing in his faith.
"So, Granger–your experiences, your thoughts seem to have a weird spiritual connection.  You draw me into your world, make me see through your eyes, and feel the way you do.  They keep me coming back, looking for more.  I'd love to read more about you, get to know you better.  You and your world fascinate me."
You'll have to take that up with Dan.  He's the author, remember.  I exist only in his mind, heart and spirit.  Though I and my Granger cohorts are based on very real people, situations, life experiences and journeys, we are all fictional.
Much of what Dan writes is non-fiction, meant to lift, encour—well, you know.  If you appreciate his fiction and his uncommon writing style, tell him.  Let him know, and spread the word to others you know would like his work.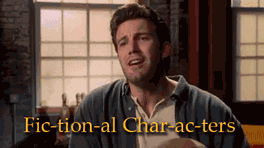 I can't.
I'm a fictional character.
© D. Dean Boone, October 2017
https://www.bing.com/images/searchq=Jay+and+Silent+Bob+Fictional+Characters&id=D5D03EF59EA14D199A9DD579DD3005EC9F4BF22C&FORM=IDBQDM