Escaping all crowds is impossible.  Thinking like them, however, is your own choice.  Grab your coffee and walk with me . . .
The crowd included
cynics who'd been watching and listening all their lives to the roiling, foaming surf of Jewish politics and Roman oppression.
cool, sophisticated, professional Christ-followers whose subdermal faith could be equally at ease at the synagogue, by Galilee's shores, at Caffit, or at the club.
jaded, disillusioned veterans wondering if this gentle guy with zero tats could possibly be Israel's promised king.
relieved and joking Jews who'd been wary just in case this pathetic, bloody, lacerated chump might be their Messiah.
stunned believers who'd openly supported Jesus of Nazareth, taking him at his word that he really was their promised Savior.
jeering, kicking, laughing, foulmouthed tormentors egged on by the amoral and lawlessly-ambitious priests, hurling rocks and epithets, who not only refused to believe, but gleefully joined in active hatred at Jesus and any who spoke or stood to His defense.
What about the rest?  The tormentors were on the curbs; the relieved were back around the fringes, nervously prattling together.  But the rest?  Those of bugged hearts, furrowed brows and aching, longing faith who were unsure where they fit, what they believed–or in whom?
The crowd.  We're each a part of it, you and I.  It's comprised of leaders and followers.  On this Good Friday, there remain three questions.
To which part of the crowd do you belong?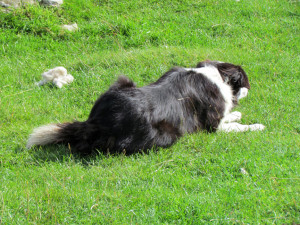 Are you a leader or follower?
If a leader, who is following you, and where are you taking them?
© D. Dean Boone, April 2017