Yes, really.
I was on morning-auto, filling the coffeemaker reservoir.  As I turned off the faucet I heard a high-pitched sound.  I dialed up my ears, and—sure enough.  A lone cardinal was singing full-voice.  Cheery.  Bright.  Joy-filled.  The longer I stood listening, the louder it sang.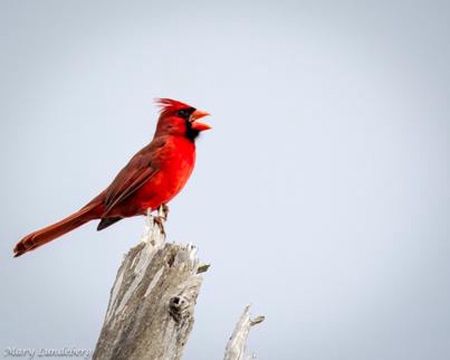 Morning-auto.  Doing The Things, mind in standby, thinking '16 and wondering '17.  Freezing outside, winter storms possible, 1/20 still weeks away, future unsure.
And a bird set me straight.
He wasn't singing because he has it in the bag, knows all the answers and everything's perfect.  He was singing because he has a song.  Because he's alive.
God sent him just for morose, mumbly-grumbly me.  "Don't you get it, Dan?  You're alive, too!  Joyously, wonderfully alive!  You've breath in your lungs, your heart's beating, you can walk!  No IV catheters, no infections!  There's food on your table, warmth in your house, good writing to do, and God in your heart!"
"Psalm 42:5."  Not the bird.  God.  I pulled my trusty Bible over and . . .  "Why are you down in the dumps, dear soul?  Why are you crying the blues?  Fix my eyes on God—soon I'll be praising again.  He puts a smile on my face.  He's my God." [The Message]
I'm slow, but eventually I catch on.  The bird sings because it's his nature, and because God gave him a song.  He could sit out there in a furfy, miserable little lump grumping about the weather, trying to incite pity and miserabling everyone around him.  Instead, that terrific little scarlet messenger sings.
It's.  My.  Choice.
Got it.
© D. Dean Boone, January 2017