See, I didn't get that when I was in P.E.  It's why I hated hurdles.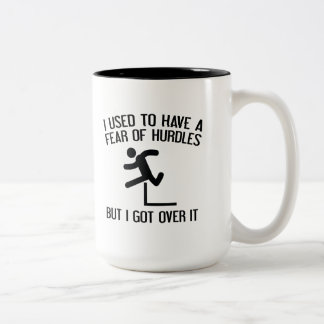 In the Spring, Milt Durand, our P.E. teacher, took us middle schoolers all out to the cinder track.  Occasionally he figured we all needed to run hurdles.
Did I mention I hated them?  I was embarrassed to even be seen with all those slim, streamlined greyhounds.  They sailed with ease over those despised metal-and-wood impediments to my future.  As they came trotting back, chuckling and nudging each other as they looked with glee at my paltry effort to slip the surly bonds of Earth.
Permanently, I hoped.
I was stocky and muscular with size 12 feet.  On the occasions when I did scrape over that barrier with my left leg, my trailing big foot invariably hooked it, dragging it along and toppling it.  I was already embarrassed and dreading the necessity; more than once, my oversized foot would tangle in the hurdle, spilling me onto the unforgiving cinders and usually scraping a shin as a bonus.  The hoots and snarky comments by The Greyhounds completed the circuit, creating yet another spark of defiance and resolve to quit trying.
What I didn't get was that one doesn't jump over hurdles.  You clear them.  Yes, you must raise that leading leg to clear the crossbar first.  But you must then raise the trailing leg sideways just enough to CLEAR the obstacle.  Mere inches will do it.
I didn't know that, and nobody told me any different.  There's a lesson there, but it's for another time.
So, yeah.  Sideways.  As in a male dog anointing a tree.  That.
I didn't get that until I was out of school and beyond caring about the miserable grades I got for those days.  Once I did, it made all the difference.  The size of my feet no longer mattered because that trailing one would be horizontal, parallel to the ground.
I'm sure you've seen the memes about a dog's philosophy of life.  "Don't like it?  Pee on it and move on."  It's a homespun example, but I'm a country boy at heart.
2017 looms large.  Looking ahead, there are hurdles set up before you.  Some will be those common to all, and some will be unique.  Running around them isn't an option:  they're in your lane and must be cleared.
How?  Pee on 'em.
No, I don't mean literally, though depending on their nature one might be tempted.  Recall my hard-won lesson about clearing hurdles instead of trying to jump over them.  One builds momentum and running rhythm that way, enabling the runner to keep focused on the next one, and the next.
Once, hurdles were an impossible, foreboding ugliness to me.  Now they are just more things to clear on my way to personal and spiritual excellence.
Those before you, stretching across the 365 days of 2017, will be the same depending on your attitude.  You're going to live those days, weeks and months anyway.  Why not live 'em with contagious, passionate joy, prepared to clear your hurdles instead of letting them frustrate and trip you up?
Listen to Paul:  "Since we are surrounded by such a great cloud of witnesses, let us throw off everything that hinders and the sin that so easily entangles, and let us run with perseverance the race marked out for us" (Hebrews 12:1).
We all have our own race to run and need to stay in our own lane.  We can't run for each other, but we can encourage and be there for one another as we're going around the 2017 track.
It is a wretched taste to be gratified with mediocrity when the excellent lies before us. ~ Isaac Disraeli

Success seems to be largely a matter of hanging on after others have let go. ~ William Feather

Believe in yourself! Have faith in your abilities! Without a humble but reasonable confidence in your own powers you cannot be successful or happy. ~Norman Vincent Peale
Whatever hurdles 2017 brings you, have a "clear 'em" mindset!
©  D. Dean Boone, December 2016