Ralph's my longsuffering GA.  He's no cute, pudgy little androgynous munchkin often portrayed in art.  Hunh-uh.  Not Ralph.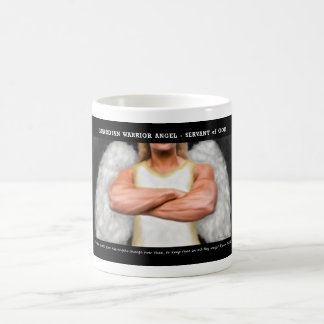 I'm unsure how guardian angels are matched with their Earthly charges, but I'm guessing that short meeting with God produced a facepalm.  Ol' Ralph apparently drew the short straw when God called him aside.
"Your mission, should you decide to accept it, is—"  and here God eloquently twitched His head and slanted His eyes in my direction–  "to stick by him and get him safely here."
Hebrews 1:14 says that's his job.  But I figure about here's where Ralph's epic facepalm happened.  I turn 64 in a week, so he's still got plenty of adventures ahead of him.  I won't go into any specifics relating to those already past; they're too legion to list.
You've heard them.  "When I get to Heaven, the first one I want to see when I step inside the Gate is—-"  I've always figured it'll be whoever's first in line, pleasantly surprised to see me.  Yet one I'll be searching for is Ralph.
He's going to get a fierce hug reserved only for scarred veterans who've Been There together.  I might even shed a few tears before God wipes them away for good.
There's a lot I don't know about Ralph, but I know this.
If Heaven issues combat pay he qualifies.
© D. Dean Boone, September 2016