Trashing Mondays has become one of Americans' fav pastimes.  Even people whom I know to be positive and upbeat join in the put-downs of this second day of every week.  Why?  Everybody does it.  You're carefully scrutinized with a quirked eyebrow if you ask things like, "Well, what's so wrong with Monday, anyway?"  Probably think you might have a few teeth broken off your sprocket.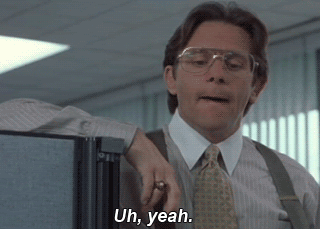 I thought thoughts about dismissing Monday.  Primarily, if you 86 Monday, you're immediately cancelling out 20% of your normal 5-day work week.  Now, how can that be good stewardship of the time you've been allotted here?
I decided to actively celebrate Mondays because
Every Monday signals the beginning of a new workweek. 

It means I just spent Sunday morning participating in worship, and resting/reflecting for the rest of the day.

I'm alive to experience it.

Since I'm still here, there's encouraging to do.

I celebrate EVERY day I'm given.
I know you've heard people say, "This is the day the Lord has made.  Let us rejoice and be glad in it"?  For some reason the only time I hear it much is on Sunday.  I think that's a mistake.  Check out how The Message says that same verse in Psalm 118:24: "This is the very day God acted–let's celebrate and be festive!"  Hasn't God made every day?  Doesn't He act every day, some way, somewhere, somehow?  That's not just a Sunday deal.
Every day is a gift directly from God's hand to me!  Doesn't it seem a little silly to say, "Okay, God, I'm truly grateful for every blessing in my life.  But, ah, You can keep Mondays.  I won't be needing those."
Get a load of 2 Corinthians 4:16:  "Even though on the outside it often looks like things are falling apart on us, on the inside, where God is making new life, not a day goes by without his unfolding grace."  You get that?  Not one day–and that means Mondays are His gift, too.  Block it out and you're giving up 20% of your week's blessings.
Why would you do that?
So.  Mondays are da bomb.  Mondays are no different than every other weekday, in that they're exactly what you expect them to be.  If anything, Monday is the best because it's the first.  How you approach your Mondays will pretty much set the tone for the rest of your week.
Think about it.  Give Mondays a chance.
Dare to celebrate 'em.  See what that does for your attitude.
© D. Dean Boone, May 2016