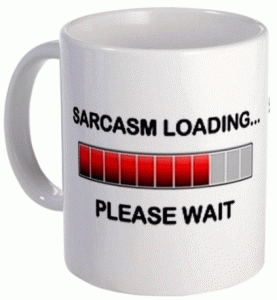 Yes, folks, here at last is the perfect gift you've awaited for decades!
Okay, maybe years.  Anyway, at long last, meet
SARCASTIC SIRI!
"Siri?  Wha—"
     (Bored, put-upon tone)  What now?
"–t's the–huh?  Anyway, what's the best way to the post office from here?"
     (4-second delay)  Seriously?  As many times as you've been there, you STILL can't find your neighborhood post office?  You can tell me.  Are you naturally gifted in being obtuse or did you take classes?
"Siri, define proboscis."
     (Snort…)  It's another name for the nose.  I'm shocked – shocked, I say – that you need to ask, as often as you're sticking yours where it doesn't remotely belong.
"Siri, how long wi—"
     What's a 4-letter word for a know-nothing that starts with 't'?
"—ll it take to get from here to Walgreens?"
     (huge, audible sigh)  Approximately 4 days, considering how long it takes you to get ready to go anywhere, the number of garage and yard sales you take in, how many friends you stop to gossip with, how long you sit at stoplights indulging in one of your fav pastimes of criticizing other drivers' habits, and the fact you never saw a Starbucks you can pass up.
Yes, friends, SARCASTIC SIRI comes with an easily downloadable app from which you can customize SARCASTIC SIRI with your own voice to  annoy anyone you choose!  You can even personalize SARCASTIC SIRI with up to 25 names including people you honestly don't like or relatives that are major irritants!
     At least you don't pick your nose in public like Angela. . .
     Someone should apprise Andros that his jeans are all too tight and that tattoo on his muffin top looks like mold.
And at only 3 ridiculously-exhorbitant payments of $316 every 23 days, you can have SARCASTIC SIRI ticking off YOUR friends in no time!
Remember:  that's SARCASTIC SIRI!  Get yours today!
No neighborhood kids, unsuspecting passersby or out of town tourists were harmed in making this ad.
© D. Dean Boone, April 2016