"Daddy?"
"Yes, son?"
"Can I have a drink of water?"
Third rescue mission so far tonight.  He was exhausted from handling an increased work load because the company had to lay off two more necessary employees.  Four year olds don't get the finer points of such things, however.  He could tell his son was bugged by something; he knew if he didn't figure it out he'd be up a lot longer than the credits for The Tonight Show.
Padding into the kitchen and filling his son's all-time favorite cup with apple juice, Stan took it in and sat down on the side of the boy's bed as he drank.
"What's the matter, little man?  Somethin' wrong in your world?"  The boy thoughtfully sipped at the sweet juice, first staring at the Captain America cup, then raising luminous, big eyes up to his dad's face.
"Daddy!  You brung me juice!"
"Br–"  He caught himself in mid-autocorrect.  This wasn't the time.  Seeing the tears in his little boy's eyes made up for those extra hours doing a job he was coming to increasingly despise.  "What's up?"
Toby got a look in his eyes no four-year-old ought to show.  "I'm scared, Daddy.  All that bad stuff on the TV. . ."  Stan had always allowed his boy to sit with him and watch news broadcasts, figuring it was simpler to show than tell.  Friends, also parents, sometimes criticized him for it, but he noticed Toby's level of conversation and its content was considerably above that of his same-age friends.
Stan thought.  "I'll tell you what my dad always told me when I was scared at night.  Will that work?"  Toby soberly nodded.  Standing up, he said, "He always told me not to be afraid because God was always right there with me.  And He is.  Good night, son."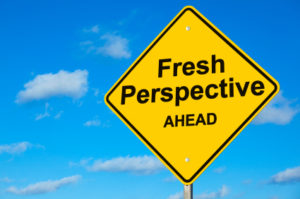 Walking through the bedroom door, he heard the boy's anxious voice:  "I'd rather have somebody here with skin on 'em."  Smiling, Stan trudged tiredly down the hall.  Just as he reached his own bedroom door he heard Toby's voice again:  "Daddy?  Thank you for bringing me juice when I asked for water.  I love you, Daddy."
His voice broke as Stan said, "You're welcome, son.  I love you, too."
You've been afraid.  Darkness comes in many shades and from many sources, and sometimes it's tough to stand in faith and be brave when you can't see beyond it.  You've had times when you were sure it was all over.  You were done.  Hope was a laughable dream.  You figured you'd try one more prayer; one last request.  Just a lousy drink of water, okay?  And then. . .
And God brought you the sweetest, coldest juice – and in your favorite cup.  Hold onto that.  Remember it.  And I hope after you've listened to this, it gets stuck somewhere inside your spirit.  I hope when you most need it, you hear this, again and again . . .
I don't care how dark it gets, how ready you are to just.  give.  up.  When GOD is in it, all things really ARE new.  They may not look like it, but when you appeal to Him, all bets are off!  Open a Bible to virtually anywhere and you'll not read for long before you see PROOF of what God has done for others–and what He is beyond capable of doing for you!
So.  Even if you feel totally alone and afraid like Toby did, the lesson wasn't lost on him, nor should you ever forget:  When you bring GOD into it, He always-always-always gives you more than you dared ask.
Yeah.  Ask God for water, He'll bring you sweet, cold juice.  And often in your fav cup!
Have courage, my friend.  Say it:  "It's not over."  Oh, it may look nothing like what you expected.  But when you leave it in God's hands, it's all new.
Count on it.
© D. Dean Boone, February 2016
Israel & New Breed "It's Not Over (When God Is In It)" performance – NO COPYRIGHT INFRINGEMENT INTENDED!