I'm thankful for my church.
Know what that means?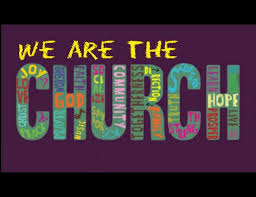 I'm thankful for you.  And you.  And you, and her, and him, and them over there.  From Ada Tuning, my very first Sunday School teacher, to the myriad believers from all sorts of places on the planet.
From so many different disciplines and polities, rituals and sacraments, each of you has enriched and expanded my understanding of who God is.   Every one of you who has embraced Jesus Christ as your personal Savior and now walk purposefully in the guidance and internal Spiritual Positioning System of His Holy Spirit are part of my Christian family.
I want you to understand what I mean when I say I'm thankful for my church.  It doesn't matter what the name is over the door or out on the signage by the road.  It's immaterial what the building or parsonage/manse looked like.  All of that mattered little. YOU, according to Romans 12 and Ephesians 5, 1 Corinthians 12 and Acts 29, are my church.  THE Church.  Yeah.  You.  Whenever somebody I'm talking to asks, "So, where is your church?"  I glance around and point at you.
"Over there."
Okay-okay…  I know what you mean.  Presently, I'm part of the most wonderful worshiping fellowship we've ever been around:  Wichita's 1st Nazarene.  We're comprised of the exact same kind of studious, fun-loving, talented, thoughtful, giving, actively-worshiping, spiritually-growing bunch of Christians that you are.
Sure, occasionally we're all doofuses in need of remedial Followship.  In the same way, we're all amazing examples of God's limitless, truly-amazing Grace that's revolutionized our lives.  We're all on the grow together.
In about 5 minutes I'm headed out on frozen highways to go meet with MY peeps, my Christian brothers and sister, old and young, as we listen and discuss, pray and give and SING.  Oh, do we love to sing and make great music together!
So.  I love my church.  I love the challenge, encouragement and edification I receive from being around such unforgettable Christians.  And the more I learn their stories, and the more I share mine with them, the more amazing our walking together becomes.
Yep.  I love my church.  You know what that means, right?
It means I love you and I believe in you.
© D. Dean Boone, January 2016