That's just one of those statements I screamed at my parents.  I did.  I said it and I meant it.  HeeYAHah–every word!
I tell ya, I've had it with people who live just as they please, cheating on everything from taxes to 'working from home' to taxes to—did I mention taxes?  They take advantage of every possible break they can squeeze out of their job description, legal or not, while loudly denying anybody else those same breaks.  Oh, yeah–they're famous for letting their own 'possible inconsistencies' slide while putting thumbscrews to anybody else who—
What?  My parents?  Aloud. . .  ?  You mean like me saying that where they could actually hear it?  Of course not!  You nuts?
But I sure felt every word.
And I did actually say it to God.  "Lord, I'm done playing the nice guy and always trying to be good when way too many around me not only DON'T try to be good, but have the gall to ride my case when they sense me getting a little, well, like they are all the time."
I've said that several times thus far during my life.  I just get fed up with folks who have no intention of being good and doing the right things, but are laser-quick to yell, call vile names and point fingers at those whom they label, "Goodie-Two-Shoes", turning them in for perceived violations much less egregious than those their tormentors routinely practice.
The other day I had one of those periodic partial meltdowns.
"Lord, I'm weary of working to live a decent, good life when it seems fewer and fewer around me seem to care any more.  Even some pieces of the Church seem to be unwinding their mainspring and backing away from things they've historically believed:  things they know The Bible teaches about and to which they've long adhered.
"I care about my Christian witness in the world I actually live in, not some fantasy place where unicorns and leprechauns cavort.  Yet it seems things like personal convictions and Godly standards – and in some cases, just good common sense – are routinely being pushed farther and farther back, maybe even abandoned altogether.  God, I know I'm not the only one out here trying to live for You, but there are times that's sure the way it feels."
I whined on about this or that until the Holy Spirit's quiet Voice said, "You're beginning to repeat yourself.  Allow me to respond."
You know what He did?  He started off by pointing out that Jesus got tired, too, of spending three solid years living with His disciples only to hear them argue among themselves as to which of them was the most important, trying to nail down the best seats at The Last Supper.
Okay.  I gave Him that one.  That does kind of blow chunks.  But you know what else?   He–He quoted SCRIPture to me.  I mean. . . the idea, y'know?
He started off with Isaiah 40:28-31.  "Have you never heard or understood?  Don't you know that the Lord is the everlasting God, the Creator of all the earth?  He never grows faint or weary."  (It was about here where I started to butt in and say, "Well, I do!"–but I was bright enough to keep it to myself.  Bad enough dealing with Daddy and Mother.  I didn't need God on my case, too.  That can't be a good thing.)  "No one can measure the depths of his understanding.  He gives power to those who are tired and worn out; he offers strength to the weak.  Even youths will become exhausted, and young men will give up.  But those who wait on the Lord will find new strength. . ."
Um.  So God understands me being fed up with being good when others who profess zero grace are just hunky-dory with being bad.  I was just inhaling to launch into my defense when the Holy Spirit, the Universe's Mr. Know-It-All, kept going by–think of this–quoting Jesus from Matthew 11:28-29:  "Are you tired?  Worn out?  Burned out on religion?" (Dagnabit!  How'd He know that?)  "Come to me.  Get away with me and you'll recover your life.  I'll show you how to take a real rest.  Walk with me and work with me–watch how I do it.  Learn the unforced rhythms of grace. . ."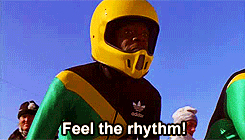 The un. . .  The unforced rhythms of gr—  He didn't even let me take a breath this time.  Yep.  Paul.  Galatians 6:9-10:  "So let's not allow ourselves to get fatigued doing good.  At the right time we will harvest a good crop if we don't give up, or quit.  Right now, therefore, every time we get the chance, let us work for the benefit of all, starting with the people closest to us in the community of faith."
Silence is usually good when God's making a point.  I practiced it.
I practiced it some more.  When I was sure I was no longer going to get my backside gnawed, I ventured a think or two.
Everybody else who's ever tried to live an authentic life for God has occasionally gotten totally hacked off at doing their best at being good while staring at the rank hypocrisy of those jovially doing and being bad while gleefully accusing the believer of the slightest little slip.
The only way to successfully navigate such inequity is to stay best buds with Jesus on a daily basis, learning how He handled stuff and people like that.
We're promised a satisfying return on our efforts as long as we don't permanently cave.
Okay, God.  That's a rog.  Oh, and thanks.  You could've gotten a lot rougher with me than You did, because down deep, I knew better.
And, you know?  That's the real issue, isn't it?
We all know better.
© D. Dean Boone, November 2015