If you think you're as good as you'll ever be, you just stopped growing.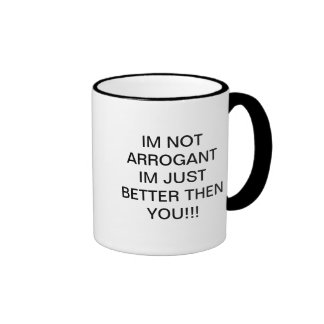 If you've stopped growing, I neither want nor need you in my company.  Ability and experience notwithstanding, you just traded what remains of who you could still become for whoever you think you've been.
I'm picky about the men and women whom I hire.  If I don't think they'll make good supervisors and managers, I don't offer them a position.  My primary criterion is:  are you teachable?
INDIVIDUALS WHO ARE TEACHABLE KNOW EVERYONE THEY MEET DOES SOMETHING BETTER THAN THEY DO.
The guy driving the transit bus you ride to work might've been a Frisbee champion.  Your babysitter could be an expert at Sudoku.  The elderly gentleman running a trimmer in Sim Park may have been a master chef at Benihana.
They have things to teach you if you're willing to learn, aren't afraid to ask and understand the value of shutting up long enough to listen.  It's possible to be so full of questions you're not listening to one answer because you're already framing the next question.
It's also possible to assume because someone is younger than you they've nothing of value to teach you.  The same is true for the arrogance of youth.  You can slam the door shut on several gigs worth of great information by thinking anyone older than you can't possibly have their wiring up to code.  Young people with busy mouths and lazy ears are not a good investment.
Slow down.  Learn to form your question in a way that signals to the answerer you're serious about the response.  Then refuse to think of the next one.  Pay attention to the answer to the question you just asked.  Hold eye contact with the speaker unless he or she is showing you as well as telling you.
Develop the art of listening well.  If that's not one of your strong points, work at it.  Practice listening.  Learn to use clarifying questions.
"Okay.  If I'm hearing you correctly, what you're saying is . . ."
That does two things.
It helps you develop the habit of listening closely to what you're being told.
It allows the speaker/teacher to either say, "No, that's not exactly it" or, "Yeah.  You got it."  RE #1?  The more you closely listen, the fewer times you'll get it wrong.  That encourages the teacher to want to further inform you, often about things they've told few or no others because no one took time to sit still, shut up and listen.
If you're not too proud to bow, there's no limit to what you can learn.
By 'learn', I mean choosing to sit at his or her feet until you do more than know.  Any fool can know.  The point is to understand (Einstein).  The difference between knowing and understanding is what separates the worker from the master craftsman.
---
Knowledge makes people humble.  Arrogance makes people ignorant.
---
You can know, for instance, how to carve wood.  That'll cover the basics:  proper tools, different kinds of wood, etc.  But understanding which way to hold a particular type of knife to create that signature hauntingly beautiful scrollwork for which the master's work is known?  That takes time and attention.  It takes sitting for hours, watching him.
Practically anyone can be trained to stamp soft wood with a machine, paint it and sell it at Walmart.  The same holds true for operating a plastic mold that spits out pieces to cheap cuckoo clocks.
Learning to carve beautiful and exotic wood by hand?  That takes time.
The longer you spend with a true master, the more you understand.
The best teachers in my life have been the most unassuming.  Few of them looked like they could work a yo-yo in less than five tries.  Had I been whizzing along through my day, distractedly looking at external appearances, they wouldn't have drawn a second glance.
Big mistake.
Everybody you meet – everyone – does something better than you do.  Value that, focus on it, evaluate it.  Make time to find out what that is.  If it's something you'd like to learn, say so.  If it's of mild interest but nothing more, you've just made a lasting friend.  You cared enough to find out their gift – and may have just reminded them who they are and why they're here.
Sometimes we all need to be reminded.  Humility and respect from someone else is often the key that unlocks that door holding in some of your best stuff that you may not have even known you shut.
It's truly intriguing what you can learn about yourself and others if you're never too proud to bow.
© D. Dean Boone, June 2015